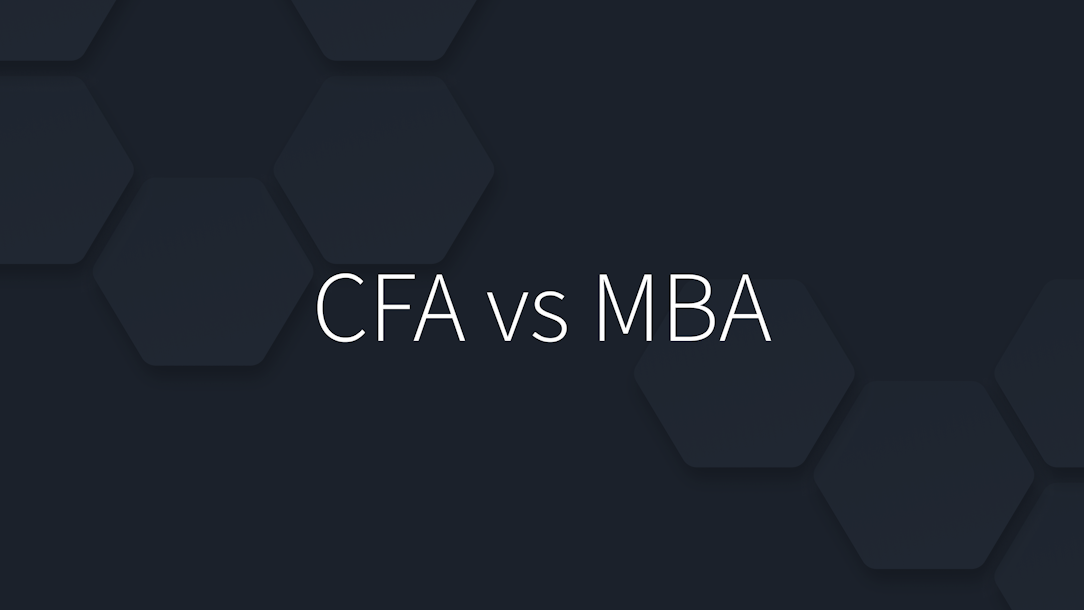 CFA versus MBA
Article by
Patrick Stephenson
on (Updated on ) in
CFA Insights
Both the CFA charter and MBA degree require a significant investment of time, but also provide great ROI. Which is the right choice for you?
If you're reading this article, you're probably choosing between earning your Master of Business Administration (MBA) degree or pursuing your Chartered Financial Analyst® (CFA®) credential.
Both will bring long-term value to your career and education, so you will benefit no matter which path you take. But which should you choose?
With input from a panel of charterholders we assembled in 2021, let's break down both credentials to help you decide.
Choose Your Focus
Through the CFA curriculum, you will acquire specialized knowledge in finance and investment that's recognized across the world. The CFA charter is especially useful if you plan to go into portfolio management, equity or fixed income research, or real estate or hedge fund management.
In comparison, the MBA curriculum has a much broader focus, designed to prepare you for a position in management. When you pursue your MBA degree, you will study various aspects of running a business and earn a degree that has recognized value, even outside of finance.
"The CFA is a deeper dive into investments," says Kevin Shires, a charterholder who serves as CFO, Director of Advisory Services, at D.M. Kelly & Company. "Those who know will delineate between the MBA and CFA and recognize that the CFA is much harder to earn."
"The CFA is at another level compared to the MBA," says Harley Gorter, a charterholder who joined First Horizon Bank as Vice President Of Business Development in 2022. "For the MBA, I found that I needed to show up and participate in group projects—that's what it required. You have to go out of your way to fail."
Consider the Cost
As of early 2022, registering for the CFA program requires a one-time fee of $450, followed by a $1,000 standard registration fee for each level of the CFA exam. If you stick solely with the materials provided by the CFA Institute, that means your entry-level cost for the CFA charter is $3,450.
We also recommend choosing a preparation provider, such as Salt Solutions. At $599 per level, using Salt Solutions study materials for each level of the CFA exam will cost you $1,797, bringing your CFA preparation total to an estimated $5,247.
In comparison, the cost of earning your MBA degree is much higher. According to Investopedia, earning your MBA from a top business school can cost as much as $100,000.
That said, the ROI for both credentials is significant, with many charterholders and MBAs earning well over $100,000.
"The CFA is harder than the MBA but somewhat complementary," says Lisa Stange, a charterholder who serves as a Strategic Advisor for Clearwater Analytics and a Trustee of Iowa Pension Employees Retirement System. "Both are an investment and you need to weigh the value of both versus the investment it requires from you."
What About Time?
You should also weigh the amount of time it will take to earn either credential. "The time commitment for both is significant," says Ms. Stange.
The CFA requires close to 1,000 hours of preparation for all 3 levels of the exam. If you pass each level on the first attempt, then you can finish the designation in about 18 months.
In comparison, most MBA programs take a minimum of 2 years to complete, with an estimated 2–3 hours of studying per day. Your completion time will depend on whether you attend full-time or part-time. Accelerated options, with a completion time of 12–18 months, are available as well.
"On the MBA," says Mr. Gorter, "you make your way through, taking one class one night a week. On the CFA, it helps to use different study methods and keep your attention span going with variety."
No matter which credential you choose, you will be putting in some serious study time. But it will ultimately be worth the investment!
"Why Not Both?"
Since both of these credentials will benefit your career, and bring you distinctive expertise, it might pay off to earn both instead of choosing one over the other. If that's your choice, our panelists all recommended CFA first, MBA second.
"Earning your MBA is relatively easy to do after completing your CFA exams, given there is some overlap," says Maia Wallace, a charterholder who serves as Sr. Fixed Income Analyst at NCMIC Group, Inc. "You should earn both your CFA charter and your MBA, since you learn teamwork with the MBA while the CFA is a body of knowledge."
"The accounting, statistics, marketing, economics, and finance MBA classes all overlap with the CFA material," continues Ms. Wallace, "so those classes are easier for someone who has already completed the CFA program."
"At our college visits," says Mr. Shires, who speaks to students as part of his work on the CFA Society of Iowa, "we say 'Why not both?'" Mr. Shires recommends earning your charter and your MBA, but waiting until later in your career for your MBA, "when you manage people and need to understand the synergies between departments."
The Choice Is Yours
As a CFA preparation provider, the Salt Solutions team recommends earning your charter—and using our materials to do so—but you might also benefit from earning your MBA. It's entirely up to you and what works best for your life and career, and we advise you to carefully consider your options.
Either way, we're here to answer your questions. Contact our support team or reach out to us on our discussion boards.