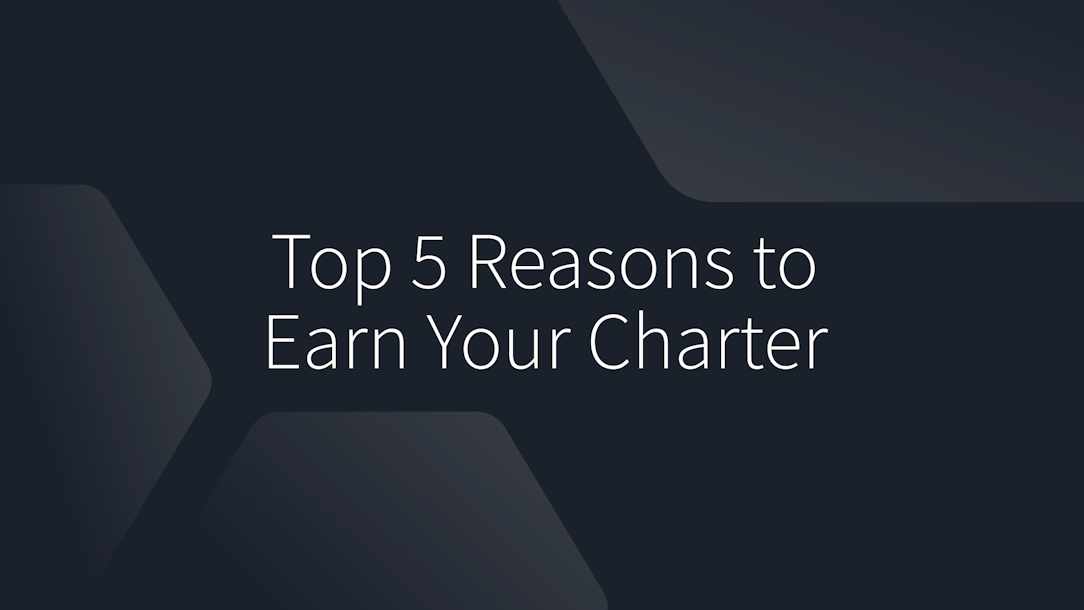 Top 5 Reasons to Earn Your CFA Charter
Article by
Patrick Stephenson
on (Updated on ) in
CFA Insights
Why CFA? Top 5 reasons to earn your charter.
Earning your CFA charter can be a long and difficult journey. The team at Salt Solutions is here to support you every step of the way, and we want you to know the end results of earning your charter are worth it!
For input on why the CFA charter is so valuable, we interviewed four current charterholders, all of whom live and work in our home state of Iowa. Each has found stable, long-lasting success as a result of earning their charter. Our interviewees included:
Harley Gorter, CFA, has served as Vice President/Relationship Manager at Wells Fargo since 2009. He previously served as Investment Analyst at Principal Global Investors. Mr. Gorter earned his charter in 2015, and he's currently Director of CFA Programming of the CFA Society of Iowa.
Kevin Shires, CFP, ChFC, CFA, earned his CFA charter in 2011. He currently serves as CFO, Director of Advisory Services, at D.M. Kelly & Company. He was the past president of the CFA Society of Iowa.
Lisa Stange, CFA, is a Strategic Advisor for Clearwater Analytics and a Trustee of Iowa Pension Employees Retirement System. Ms. Stange earned her charter in 1993 while working as a fixed income analyst at Principal Mutual Insurance Co. She served as Chief Investment Officer of EMC Insurance Companies and Homesteaders Life Company and is currently Secretary of the CFA Society of Iowa.
Maia Wallace, CFA, is a Sr. Fixed Income Analyst at NCMIC Group, Inc. She has spent 13 years at her current employer and 19 years in the investment industry. She started Level I right out of college and has served on the board of the CFA Society of Iowa.
While they hold a variety of positions at a variety of employers, our charterholder panel provided us with consistent reasons why earning your charter will benefit your career and your life. Let's dig into their reasons.
Earn your CFA as a favor to your future self
1. Higher Salary
The promise of a bigger paycheck may keep you pushing through your CFA study hours. The numbers prove that earning your charter can lead to earning more money and a position with more responsibility and seniority.
According to a compensation study conducted by the CFA Societies of Nebraska and Iowa, charterholders with a bachelor's degree earn a median salary of $150,000, twice the reported salary of investment professionals with only a bachelor's degree. Charterholders with graduate degrees earn even more, with a median salary of $177,085—almost $70,000 more than other investment professionals with graduate degrees but not their charter.
While we can't guarantee these results, it's clear that earning your charter could lead to earning more money. "You will see some incremental raises as you go along," says Mr. Gorter, adding, "What better thing could you add to your year-end review than 'I earned my charter this year'?"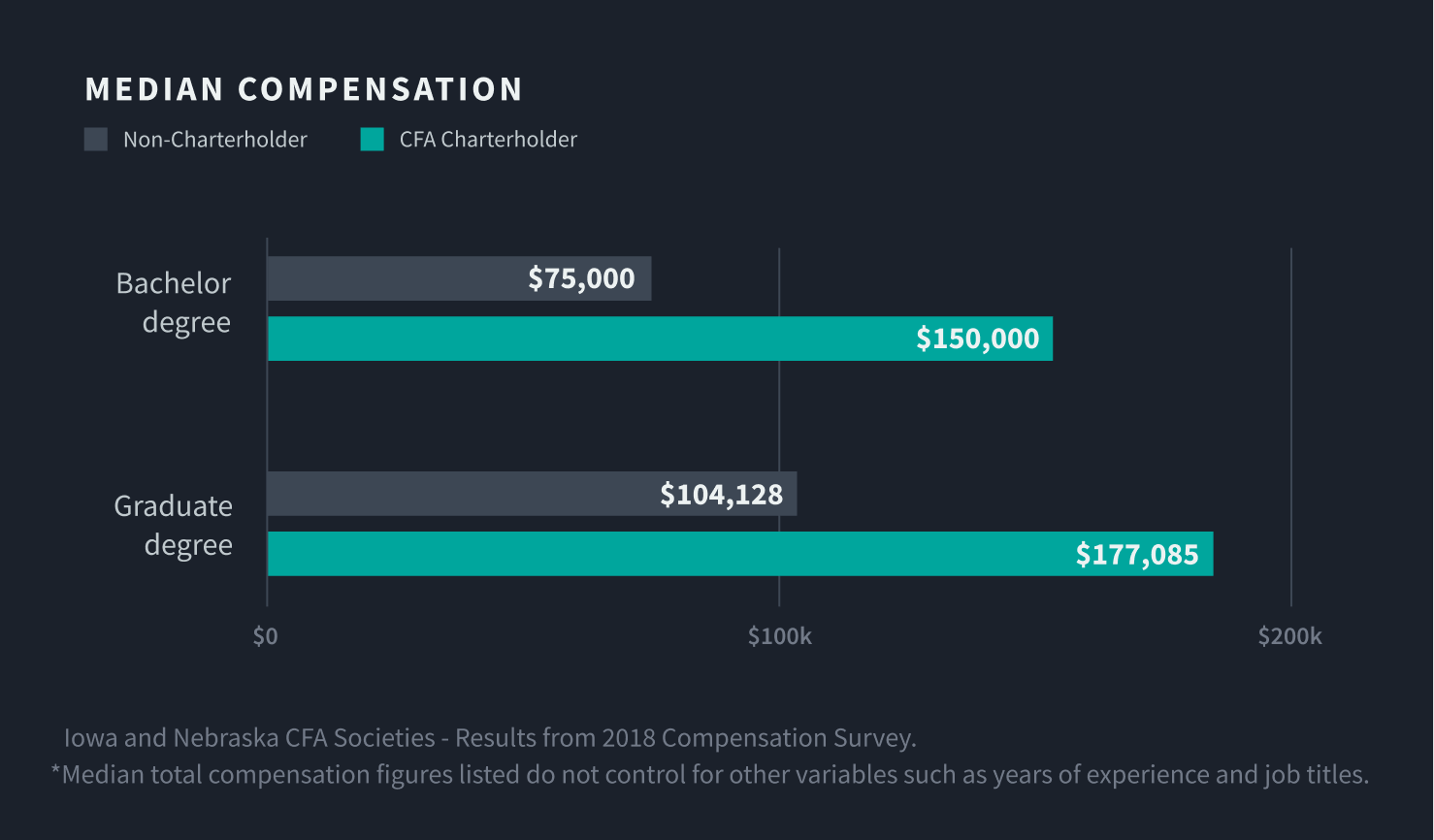 2. Credibility
All four charterholders agree that becoming a charterholder brings you prestige and a step up in the eyes of decision-makers.
"Unlike a graduate degree where the level of difficulty can vary, the CFA exam is the same for everyone," says Ms. Wallace. "Your charter indicates to your employer and your hiring manager that you have this set of knowledge and skills, as well as the focus and determination required to pass the CFA exams."
Ms. Stange agrees: "The standardization of the CFA is internationally recognized, not only in the United States but throughout the world. Every candidate is taking the same test and everyone who passes is meeting the same bar. The CFA charter shows you have a certain level of knowledge and credibility in the industry."
"I probably wouldn't have the job I have now if not for my charter," says Mr. Shires. "I was under 30 when I applied and people don't always take you seriously when you're young … The designation gives you prestige." Currently, Mr. Shires works at a private wealth firm, helping individuals invest their money, making model-based portfolios, and spearheading investments on mutual funds. "When I joined the firm 9 years ago," he says, "I don't think they would've listened to me at all as a young guy with ideas. But I came in with my charter already completed, so they could see I'd put in the work and research."
"From personal experience, the CFA charter gave me credibility," says Mr. Gorter. "[The designation] means something all over the world and shows you have serious knowledge, dedication, and follow-through. That's huge when you're younger and a big motivation to earn your charter. To use a baseball analogy, you start the conversation at third base as opposed to stepping in the batter's box"
Especially when it turns out the CEO has his charter, too, we can talk war stories over preparing for the exam.
3. Stability
Each of the candidates has found long-term employment in a position they enjoy and find genuinely fulfilling.
Ms. Wallace says her career benefitted as soon as she began passing the CFA exams. "I got my first job after I passed Level I," she says, "and I got the job I'm at now after I passed Level II." She has remained in her current position with NCMIC Group, Inc., for more than 13 years, serving as credit analyst and generalist covering corporate credits in all sectors.
Similarly, Mr. Shires has been with his current employer D.M. Kelly & Company for almost 10 years. "Earn your CFA as a favor to your future self," he says. "Give up partying for yourself on the weekends so you can study and ultimately find a job you will love. Putting in 2–3 years of study time can mean a lifetime in the job you ultimately want that makes you happy."
The benefits come the minute you raise your hand and say you want to take the exam.
4. Mobility
You may also want to move around, shifting from employer to employer or seeking out new positions and promotions in your current company.
Ms. Stange was urged to earn her charter by her employer. "My investment colleagues either had already earned their charter or were working toward it. Principal Mutual was very supportive of the CFA and allotted time to study during the workday." As one of a few female investment analysts, Stange believes the CFA charter put her on a level field with her male colleagues. "The rumor was that the females were hired for diversity purposes. We all passed the CFA exams, which reinforced our right to be there."
Ms. Stange harnessed her financial pedigree to rise through her field. "I came from a family of five farm kids," she says, "We all relied on scholarships and student aid to attend college. I didn't start my career with a ton of expectation. Earning the CFA gave me confidence to rise to the level of Chief Investment Officer at two companies and serve as Chair of the Board of a $40 billion state pension plan."
"The CFA is a good way to differentiate yourself immediately, even before you're a charterholder," says Mr. Gorter. "If Bob has 8 years of experience but not his charter, and you're a Level III candidate with 2 years of experience, you can be competitive for the same position Bob is up for."
"Many employers are switching from CFA-preferred to CFA required for their positions," he adds. He personally has received "a few job offers I wouldn't have had if not for my charter. Those didn't work out, but the charter has opened doors for me. Especially when it turns out the CEO has his charter, too, we can talk war stories over preparing for the exam."
[My local CFA society] has provided valuable networking opportunities and connections!
5. Community
Finally, all four charterholders agreed that the community you join when you earn your charter, or even when you sign up for your first exam, is immensely valuable. In fact, signing up for the CFA Institute means joining a community of more than 176,000 CFA Society members in 166 countries around the world.
Joining a new community means connecting with new opportunities. "I'm part of a women's group that has 6 or 7 women with their charter," says Ms. Wallace, "and it's provided valuable networking opportunities and connections! I recommend young people get involved with their local chapters of the CFA Society."
"Getting involved with your local CFA Society could lead to your next job offer," says Mr. Shires. "They connect you with a CFA inner circle and the best and brightest minds in a variety of areas around you." For instance, Mr. Shires says, "If I have issues about some part of the finance market, I can ask experts their opinion. It's not just about having your charter, it's about being part of that charterholder community."
"You will have access to your CFA Society from the very beginning," says Ms. Stange. "There's a lot of camaraderie in joining your society, like 'Look, you're already done with Level II! That's awesome, keep going!'"
Ms. Stange adds: "The benefits come the minute you raise your hand and say you want to take the exam, especially when you become a member of your local CFA Society … It's pretty easy to mentor others and have them mentor you. What you're doing is getting into a community that will help you with study groups, jobs, career advice, introductions, resumes—it's just a supportive community. They will call if you if there's a job opening."
Prepare for your CFA charter with Salt Solutions.
As our charterholders demonstrate, there are so many benefits to earning your CFA charter. Salt Solutions has the CFA study materials and review and assessment tools you need to get you there.
If you have any questions about earning your CFA charter, reach out to our Support team.