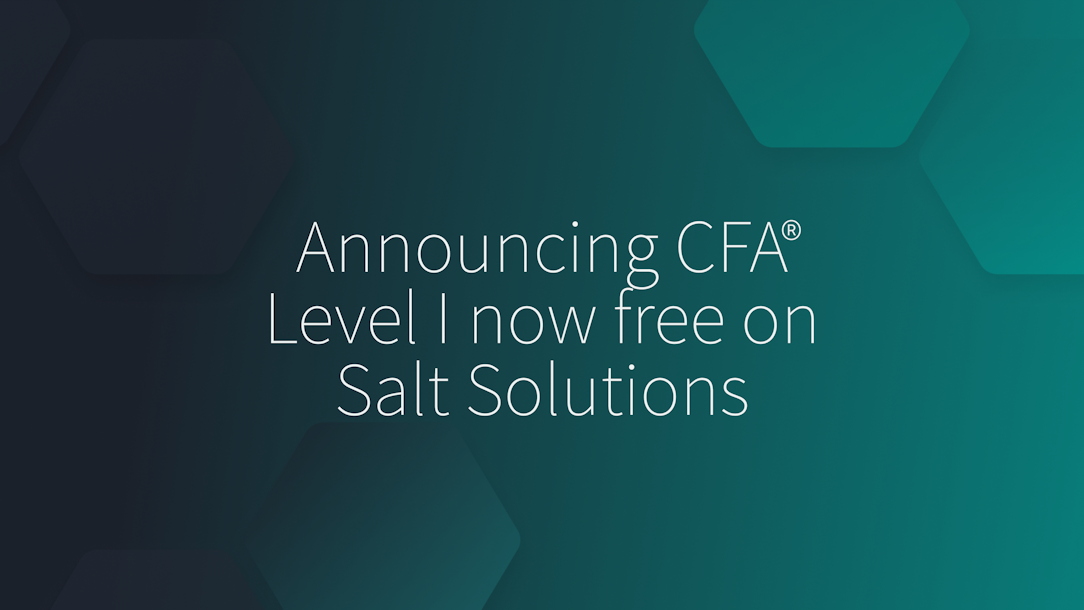 CFA Level I Now Free on Salt Solutions
Starting February 8, 2023, CFA candidates can access Salt Solutions Level I video lessons, questions, mock exams, analytics, and more, at no cost with no catch.
We're thrilled to announce we're revolutionizing how CFA candidates prepare for their exams by offering our CFA Level I exam preparation materials for free, starting February 8, 2023.
What's the catch? No catch. At no cost, you get access to all of our Level I video lessons, manuals, questions, analytics, mock exams, and more.
Everything you need to excel at Level I is right here with Salt Solutions, so you can pass your exam and move on to Level II and Level III with confidence.
"Salt Solutions has the best product on the market! Salt's approach to CFA preparation has saved me many, many hours of study time compared to other prep providers." – Ethan, Passed Level II using Salt Solutions
Why such a bold move?
The Salt Solutions team is not only confident in the quality of our platform. We believe it's the best in the industry.
We understand the pressure you're facing as you prepare for the CFA exam, as we've been there ourselves. And we're committed to eliminating the stress you might experience when choosing a CFA exam prep provider.
That's why we're removing the financial barrier to Level I. We want you to see that our platform is your superior choice for CFA exam prep and give you one less thing to worry about during an already challenging process.
"The platform covered the entire relevant curriculum far more efficiently. This allowed me to best use my limited time and achieve a passing score." – Zach, Passed Level I using Salt Solutions
What if I've already purchased Level I?
Full Exam Access: Candidates who purchased CFA Level I after 12/1/2022 will receive a complimentary voucher to access CFA Level II on Salt Solutions.
Monthly Subscription: If you are currently subscribed to our Level I monthly subscription, you will continue to have access but your monthly fee will be waived.
If you have questions about these changes, please reach out to support@saltsolutions.com
Experience truly priceless CFA prep.
You have many options for CFA exam prep, but we're confident Salt Solutions is your best choice for effective, efficient preparation. See how valuable free can be—sign up for Level I and experience our platform for yourself.