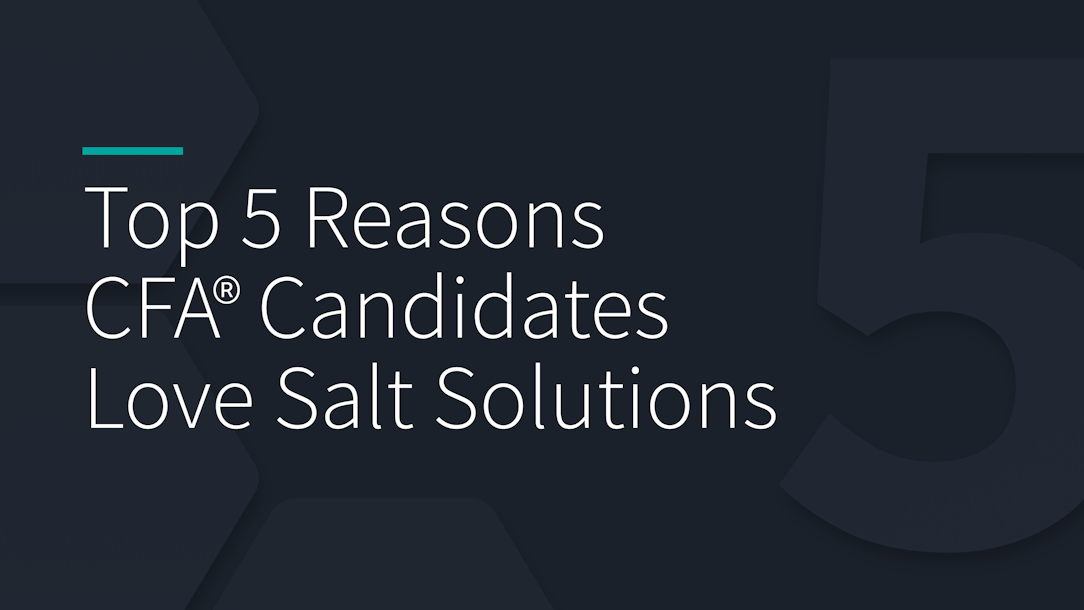 Top 5 Reasons CFA Candidates Love Salt Solutions
Our platform has become a go-to for many CFA candidates. The reasons are numerous, from our mock exams to direct support from instructors. Check out what they have to say!
If you're preparing for the Chartered Financial Analyst® (CFA®) exam, you're probably looking for the best resources to help you pass. Our platform, Salt Solutions, is increasingly popular among CFA candidates like you—and for good reason. Five good reasons, in fact!
In this article, we'll take a look at five reasons our users are loving Salt Solutions. We've identified these reasons based on post-exam surveys, direct outreach to candidates, social media, and other correspondence with our CFA candidate community. (Editor's note: Meet a few of the candidates we've spoken to on Chartered, our new initiative.)
From mock exams, to high-quality video lessons, to a user-friendly interface that makes preparation "easy on the eyes," as one candidate describes it, the Salt Solutions platform features everything you need to prepare for and pass your CFA exams.
1. Challenging mock exams that are just like the real thing.
First and foremost, our users love the mock exams on Salt Solutions. To ensure you walk into your exam feeling prepared, our team has designed each level's mock exams from scratch to closely approximate the actual CFA Institute exams, including an exam interface that resembles Prometric, the computer-based testing interface used for the actual exam.
"What I loved was the mock exams, the way you can see your progress," says Aleks Veljanovski, who passed Level II using Salt Solutions. "The quality of the questions was great and [provided] great preparation."
As Aleks notes, our users also appreciate the analytics they receive after each mock exam, which identify important areas for improvement. These analytics ensure you know how to spend your limited time.
Our free trial features a full mock exam. Try one for yourself!
2. High-quality video lessons that use your time efficiently.
To make your learning process more enjoyable, we've ensured the video lessons on Salt Solutions are high-quality and digestible in a short period of time, like a 10-minute gap between meetings or a half-hour commute on the subway.
"Salt Solutions videos and summaries make everything as straightforward as possible without sacrificing depth," says Erika Simmons, who's preparing for Level I. "[Lead instructor Mike Carmody] takes intimidating concepts and talks through them until the answers are obvious."
Plus, the option to watch at 2x speed allows candidates to cover more material in a shorter amount of time. "I watched all of the videos [at 2x speed]," says Brandon Arns, who passed Level I using Salt Solutions, "and it sped up the process immensely."
Each video lesson is scripted by our instructors and filmed in our studios. In each video lesson, instructor Mike Carmody—a seasoned charterholder, chief financial officer, and entrepreneur—breaks the CFA Program's complex concepts down into easily understandable chunks.
"Mike Carmody takes intimidating concepts and talks through them until the answers are obvious"
3. A user-friendly interface that keeps your studies on track.
Candidates also appreciate the simple and intuitive interface of Salt Solutions, which makes it easy to navigate the epic curriculum, find the material you're looking for, and keep track of your study progress.
"First of all, of course, I loved the interface, hands down the best," says Het Desai, who passed Level I using Salt Solutions. "Excellent graphical presentation," adds Mirazd Za, who's using Salt Solutions to prepare for Level II. "It made it easy to learn through the material."
But our well-designed and carefully thought-out interface has more to offer than looks. Candidates say key features of the interface are helping them succeed, including CheckPoints, our preparation pace keeper that gives you weekly goals and shifts your goals automatically based on your progress.
"The weekly study goals keep me motivated throughout the week," says Level I candidate Shamar Mundell. "The layout of the website makes it easy to follow with studying."
"Salt Solutions has made the daunting task of CFA prep far more manageable," agrees Level I candidate Alex Larson. Alex describes the platform's interface as "simple and intuitive" and says the way we've organized the "distinct Learn and Focus phases helped me plan around my hectic life as a student."
"The weekly study goals keep me motivated throughout the week"
4. A question bank with built-in support from our instructors.
A killer question bank is on every CFA candidate's wishlist, and our platform delivers. Salt Solutions candidates rave about the quality of the assignment, review, quiz, and mock exam questions because they closely mimic the difficulty and format of questions on the actual exam.
"The question bank, especially the grading system for essay questions, was one of the features that I enjoyed the most," says Bartosz Zajdel, a Level III candidate who chose our subscription option to drill his knowledge one month before the exam and used our unique self-grading rubric for essay questions.
Adds Mirazd Za, "The question bank reflects the actual difficulty of the exam, not too hard or too simple." Mirazd especially appreciated the assignment questions at the end of each reading that test your knowledge before you move on.
Plus, each and every question on Salt Solutions has its own discussion forum. Our instructors will respond to your queries with thoughtful, in-depth answers within 24–48 hours. "Anytime I reached out, the support was quick and provided a direct answer," says Ethan Peterson, who passed Level II using Salt Solutions.
"The question bank reflects the actual difficulty of the exam, not too hard or too simple"
5. Salt Solutions is helping candidates pass their CFA exams.
Above all, the reason CFA candidates are loving Salt Solutions is because it's helping them to pass these challenging exams. Many have reported passing on their first try, and several have credited Salt Solutions as being the main factor in their success.
"I was one of the lucky 22% to pass the July exam," says Hitesh Masand. "Although I studied extremely hard and was humbled to be comfortably above the 90th percentile, I must say there's no way I could have done it without Salt Solutions."
"I'm happy to say I passed the Level I exam!" says Zach Zimmerman. "I relied on Salt Solutions completely, and you didn't let me down. You'll be my first stop when it's time to attack Level II. Thank you!!"
And Suzgo Luhanga says, "It is my pleasure to inform you that I passed the CFA Level I exam on my first attempt, almost entirely using the Salt Solutions platform. Please pass my appreciation along to [Mike Carmody], as he explained the concepts very well and the platform is amazing."
"I must say there's no way I could have [passed my exam] without Salt Solutions"
Join our candidates in excelling with Salt Solutions.
With our comprehensive suite of CFA exam study resources and proven track record of helping candidates pass, Salt Solutions is a great investment in your future. Whether you're just starting your CFA journey or one month from your exam, we have something to offer.
Start your CFA exam prep today with Salt Solutions and give yourself every advantage to pass your exams. You can sign up for a free trial, featuring a full topic and a full mock exam for each level, using the menu above.