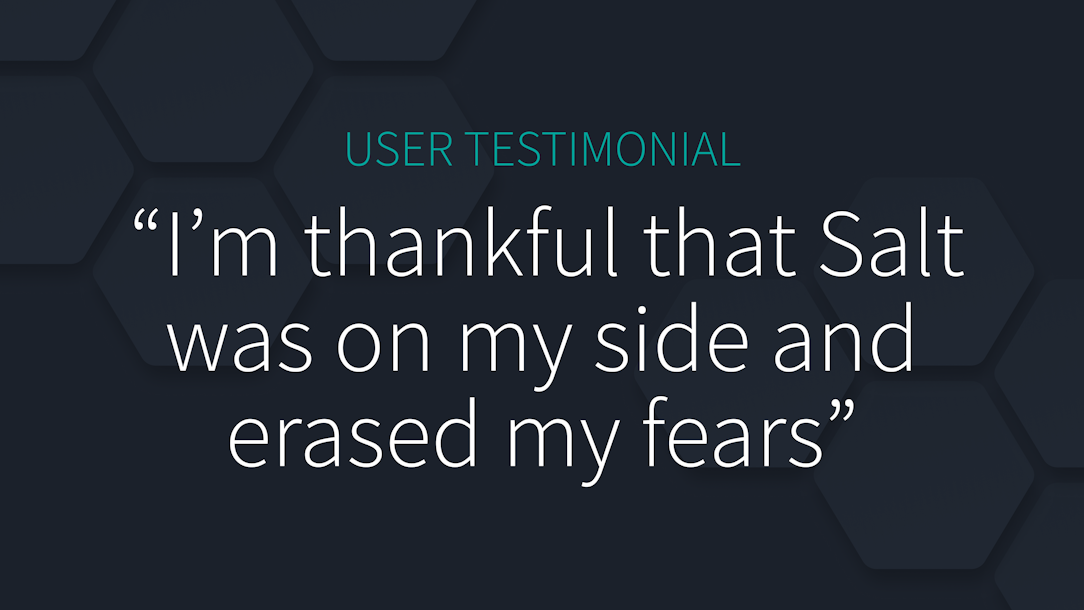 John's Journey to Passing CFA Level 2
Learn how John, a Salt Solutions candidate, overcame the challenges of CFA Level 2 and passed the exam with the support of our team, study materials, formula sheet, and question bank
Last month, we received a wonderful testimonial from a Salt Solutions candidate named John, who passed the CFA® Level II exam in May 2023 with the help of our platform. His experience highlights the dedication and expertise of the Salt Solutions team, as well as our high-quality content and services. We're so happy to have played a part in John's journey to passing Level II and, someday soon, earning his Chartered Financial Analyst® designation!
"Keep on making the world a better place. One candidate at a time."
John described the CFA Level II exam as "the tallest mountain I had to climb." Despite excelling at other actuarial and financial exams, John struggled with Level II and took it a total of five (!!) times before passing—now that's dedication. He originally intended to "hit two birds with one stone, since passing [CFA Level I and Level II] would give me credit for three actuarial Validation by Educational Experience (VEE) courses."
After four attempts using primarily CFA Institute materials, John chose Salt Solutions and "subscribed for a lifetime just in case I had to take the exam again." John recounted his journey attempting Level II over the years:
First attempt at Level II in 2015, using only the CFA Institute materials.
Second attempt in 2016, using CFA Institute materials and his old notes.
Third attempt in 2017, using CFA Institute materials and old notes. He got fed up at this point, so he proceeded to take the VEE courses themselves using Coaching Actuaries materials.
Fourth attempt in 2022, using old notes and AdaptPrep (an earlier version of Salt Solutions).
Fifth and final attempt at Level II in 2023, using Salt Solutions. John passed!
Having passed Level II, John was really happy with his choice to use Salt Solutions, and he thanked our team for answering his questions and supporting him.
John appreciated the insights from the Salt Solutions charterholders who answered his questions, including our instructors Chin Yew Kok and Marc Coward ("I owe my success partly to you two"). John also appreciated the support he received from our team member Chona Bernardo, who "handled my queries and complaints very well with her quick responses."
John found our manuals, formula sheet, and videos to be especially helpful in his preparation. He wrote: "The notes and the formula sheet are what anyone would basically need" and "the videos supplement the notes and … help you understand the notes better." He found the questions in our question bank to be difficult and tricky, but the solutions that came with them helped him gain "more insight, confidence, and understanding."
"The solutions really helped me gain more insight, confidence and understanding."
John concluded by expressing his gratitude for the support he received from Salt Solutions. "I'm thankful that Salt was on my side and erased my fears that I was going crazy," he wrote. "Most of all, the lifetime price isn't too bad at all given the quality of the content and services. Thank you for putting up with me, team, and keep on making the world a better place. One candidate at a time."
We're proud to have played a part in John's success and we're grateful for his kind words, especially his kudos for individual team members! Thank you, John, for choosing Salt Solutions and for sharing your story with us. We will continue to strive to provide high-quality content and services to support CFA candidates like John.