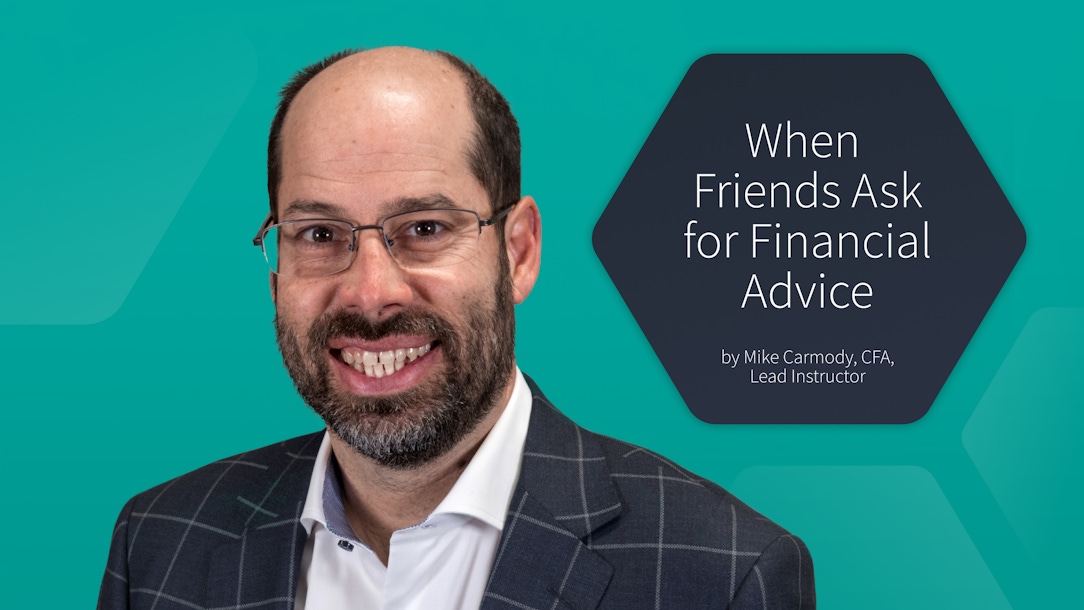 When Friends Ask for Financial Advice
Article by
Mike Carmody, CFA, Lead Instructor
on (Updated on ) in
CFA Study Tips
Worried about being bombarded with requests for free financial advice? Enjoy these tips from instructor Mike Carmody on whether to give advice and how to give explanations that are useful and understandable.
Sooner or later, your friends and family will find out you're studying for the Chartered Financial Analyst® (CFA®) exams. In their minds, that could mean you're a financial genius. In a relative way, that could be true, because many people do not know anything about finances. Some will even ask you for free advice!
Should you give financial advice?
This is certainly a personal decision. There's not a right or wrong answer. However, it's better if you think the issue through before somebody does ask. Otherwise you could face awkward pauses at parties and dinners!
For example, perhaps a friend will ask you how much to save for retirement. That was a question my dad commonly asked me. Another may ask you about estate tax issues. Some might want your opinion on the stock market in general.
First, decide if you're willing to give out free advice.
After all, this is your livelihood. Keep in mind that sharing advice is what friends are for. At some point, you may rely on a friend or family member with medical knowledge. But there is a limit. You probably don't want to spend hours advising the same person every week.
Second, only give advice in areas that you truly have knowledge.
If you specialize in real estate investments, don't give suggestions on commodity mutual funds. The friend or family member will likely think you're an expert in anything financial, so they might act on your suggestions solely because you suggested them.
Third, make sure you give explanations that are useful.
Don't use terms that are only familiar to financial experts. Keep it simple enough to comprehend while thorough enough to really answer the question. It can be a delicate balance which will certainly vary by person.
Carefully consider your decision.
Earning your charter is certainly an achievement that comes with admiration and expectations from friends and family. You should carefully consider your decision on whether to provide financial advice before being put on the spot. It's important to help those we care about—but it's also important to set boundaries.