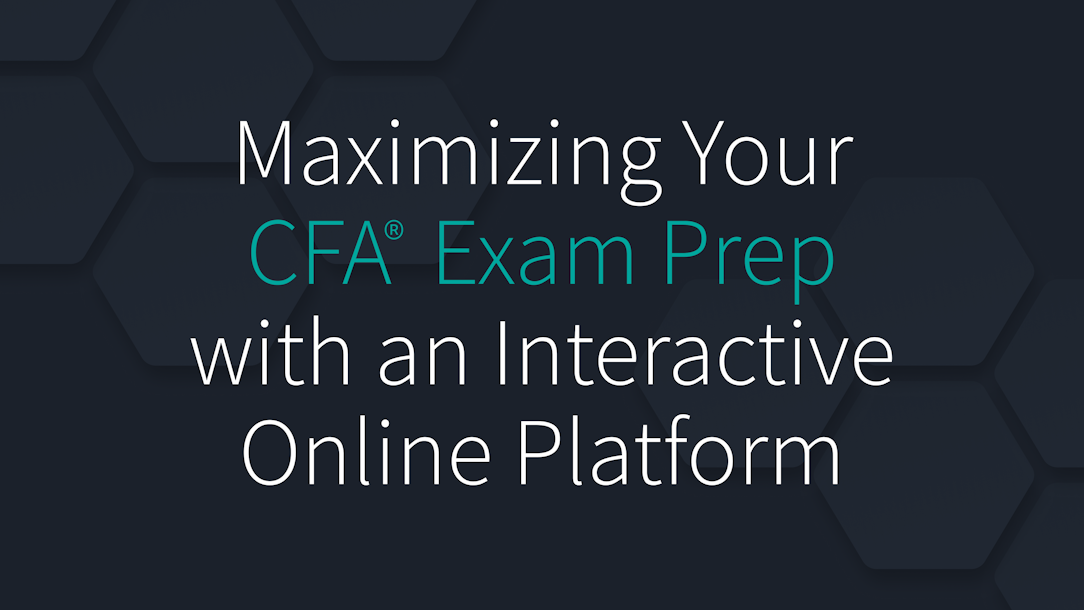 Maximizing Your CFA Exam Prep with an Interactive Online Platform
Article by
Team Salt Solutions
on (Updated on ) in
CFA Insights
Choosing the best CFA prep is crucial for CFA exam success. Let's explore your CFA prep options, with an emphasis on Salt Solutions!
Achieving your Chartered Financial Analyst (CFA) designation is no small feat. It requires dedication and commitment, and it can open doors to exciting career opportunities. To succeed, you need the best CFA study materials. Let's explore the importance of finding the right CFA prep course and introduce you to some of the best options available, with a particular focus on Salt Solutions.
The Need for the Best CFA Prep
The CFA exam is a professional certification by the CFA Institute that demonstrates the competence and integrity of financial analysts. It's globally recognized and comprises three levels that test your proficiency in various fundamental and advanced investment topics. CFA exams are challenging, and candidates must pass all three levels to earn their CFA charter.
Since the CFA curriculum is vast and complex, investing in exam prep courses helps candidates understand the exam better and identify areas needing improvement. Simply put, you must fully understand what's in store for you on the CFA exam, so you can make a plan and pass your exams.
You must fully understand what's in store for you, so you can make a plan and pass your exams.
What To Look For in CFA Materials
Preparing for the CFA exam requires a comprehensive and effective study plan, and the right materials are crucial. Here are the key features to look for in an excellent CFA prep course:
Interactive Learning Tools: Interactive learning tools include quizzes, flashcards, and video lectures that make complex topics easier to grasp and reinforce your understanding of the material.
Comprehensive Study Material: Comprehensive study materials cover the entire CFA exam curriculum, including textbooks and study notes that ensure candidates are well-prepared.
Full-Length Practice Exams: The best CFA prep courses should offer multiple full-length practice exams that accurately reflect the difficulty and format of the actual exams.
Performance Tracking: This feature lets you see where you're performing well and where you might need additional study time.
Expert Support: Access to expert support can make a big difference in your prep, whether through online forums, email support, or one-on-one coaching.
Flexible Learning: The best CFA study materials offer the flexibility to study at your own pace and on your own schedule.
Many CFA prep courses provide these features, guaranteeing CFA candidates the best chance of success on exam day. However, finding the right material can still be difficult, especially with budget and time constraints. Moreover, every learner has different needs and preferences.
CFA Exam Prep Providers
Now that we understand what makes an excellent CFA prep course, let's explore some of the options available.
Mark Meldrum
Mark Meldrum offers in-depth videos that cover every aspect of the CFA program curriculum. Mark Meldrum also includes a study planner to help candidates manage their study commitment, a question bank to gauge comprehension of the content, and performance stats to benchmark against other subscribers. Dr. Mark Meldrum, who has over 20 years of relevant market experience, is the instructor for the course.
Kaplan Schweser
Kaplan Schweser, a renowned player in the CFA test preparation landscape, holds a prominent position within the expansive Kaplan family of educational offerings. It stands out as having the most significant number of practice exams. This abundance of mock exams is a compelling advantage, as it allows you to become thoroughly familiar with the exam's format and functionality long before you sit for the real deal.
AnalystPrep
In 2014, AnalystPrep revolutionized the CFA prep landscape by offering all-inclusive courses at a fraction of the cost of traditional providers. Its affordable paid packages include tutoring, meaning a knowledgeable team will help candidates when they get stuck somewhere in the course.
The Princeton Review
Princeton Review has a reputation for excellence, and their Ultimate Course is a good option for candidates who prefer live, real-time lectures. With the goal of ensuring your success in the CFA exam, Princeton Review CFA provides access to a team of expert CFA instructors.
Fitch Learning
Formerly known as 7City Learning, Fitch Learning has rebranded and emerged to offer a blend of online and classroom-based CFA prep courses. The Fitch CFA Review course is best for visual and auditory learners. Fitch Learning Cognition (FLC) also forms an integral component of the online platform, assessing learners' aptitude and directing focus towards the most essential topics.
Bloomberg Prep
Bloomberg Prep, a notable CFA study course, is a subsidiary of Bloomberg, a globally recognized titan in financial intelligence. Unlike other providers, Bloomberg leverages the power of machine learning to craft personalized learning journeys tailored to each student's unique needs.
Finding the right material can still be difficult, especially with budget and time constraints.
The Best CFA Study Material: Salt Solutions
Salt Solutions is the exemplary choice for CFA candidates, offering a comprehensive range of materials for CFA candidates. Our study guides cover the entire CFA curriculum, providing clear explanations and practice questions.
Two-Phase Prep Course
Salt Solutions ensures a comprehensive study approach, transitioning from the "Learn" phase of initial preparations via high-quality video lessons to the "Focus" phase, which enhances your confidence through review materials, quizzes, and mock exams in the final month before your exam. This structured method guarantees thorough content coverage and keeps you on track.
User-Friendliness
Salt Solutions' user-friendly platform saves you time in navigation, allowing you to concentrate more on your studies. The "Learn" dashboard provides a holistic view of your study progression, visually demonstrating your overall progress learning and completing your weekly goals.
Conversely, the "Focus" dashboard delves deeper into your performance across each topic, using data from quizzes and exams to highlight areas needing further attention. This clear perspective lets you focus your studies based on your expertise level and the exam's weight.
Salt Solutions also allows candidates to reach out directly to content creators and instructors. With expert guidance, CFA candidates get the best resources to boost their confidence and ace the exam.
Salt Solutions allows candidates to reach out directly to content creators and instructors for expert guidance.
The Takeaway
Preparing for the CFA exam is a significant undertaking, and choosing the best CFA prep is crucial for success. The best CFA study material helps candidates fully understand the CFA curriculum and provides ample practice questions to help build their confidence. With an interactive online platform, you can maximize your CFA exam prep and have the best chance of passing the test.
Salt Solutions stands out with the best CFA study materials, offering comprehensive content, interactive tools, and expert guidance. Invest in the best CFA study materials to advance your career in the field of finance. Start your CFA exam preparation with Salt Solutions today and take a step closer to becoming a CFA charterholder!