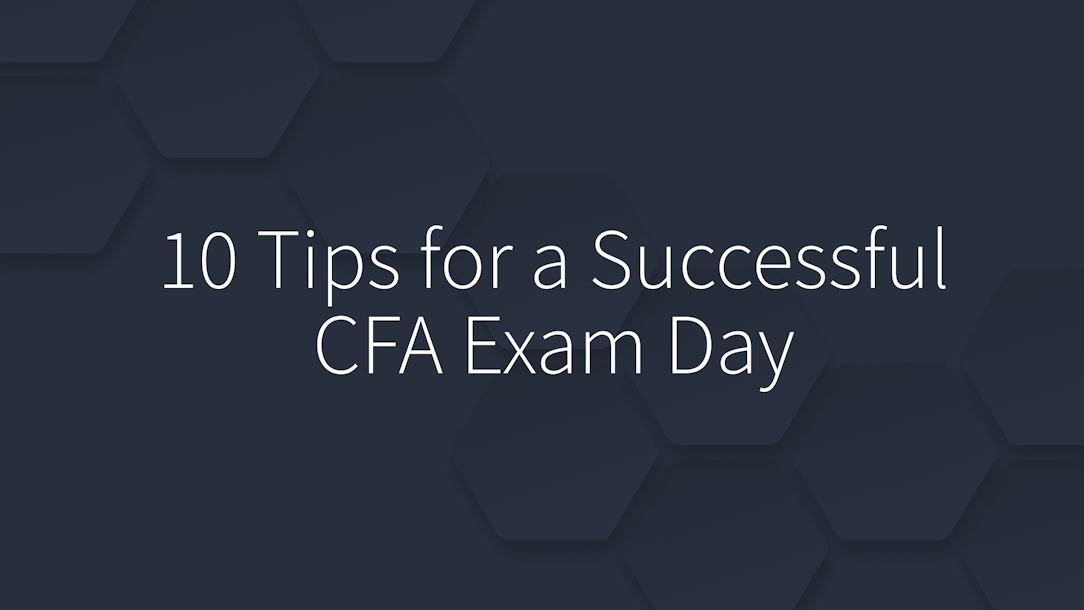 10 Tips for a Successful CFA Exam Day
Article by
Team Salt Solutions
on (Updated on ) in
CFA Insights
The day you take the CFA® exam is high-pressure! But our team encourages you to embrace the challenge and opportunity. From arriving early to the exam center to maintaining a careful pace on the exam, enjoy these 10 tips for a successful CFA exam day.
The day you take the Chartered Financial Analyst® exam can be both exciting and nerve-wracking. It's the culmination of months of hard work and study, and it's your chance to show the world what you've learned. We advise you to embrace the excitement and anticipation of the day, so you can enjoy the feeling of finally putting your skills and knowledge to the test!
Here are some tips from our team on how to enjoy all the opportunity and potential of CFA® exam day.
1. Be awesome.
Take a moment to appreciate the little things, like grabbing your calculator and No. 2 pencil or breathing in the fresh morning air. After today, you can finally take a break from studying (at least for a little while) and enjoy the feeling of accomplishment. Remember, today there is just one thing on your to-do list: Be awesome.
2. Prepare yourself and get organized.
Make sure you have everything you need packed and ready the night before the exam. This includes your identification documents, pencils, pens, calculators, and any other necessary supplies. Check the location and timing of the exam and plan your journey in advance to avoid any last-minute rush.
Remember, today there is just one thing on your to-do list: Be awesome.
3. Get a good night of sleep.
Easier said than done, we know. But a good night's sleep is crucial for optimum brain function and performance. Make sure you get enough sleep before the exam day to wake up feeling refreshed and alert.
4. Eat a healthy breakfast.
Fuel your brain and body with a healthy breakfast on the day of the exam. Avoid heavy or greasy foods that may cause indigestion or lethargy. Opt for a nutritious meal that provides sustained energy and helps you stay focused throughout the exam.
5. Don't arrive on time—arrive early.
Arrive at the exam center early enough to avoid any unnecessary stress or panic. This also gives you enough time to settle in, read any instructions or guidelines, and familiarize yourself with the surroundings.
6. Keep an eye on the clock.
Time management is crucial during the exam. Make sure you allocate enough time for each section and keep an eye on the clock to avoid running out of time. Try to answer easier questions first and save more difficult ones for later.
7. Don't lose your calm.
Stress and anxiety can negatively affect your performance. Stay calm and focused throughout the exam by taking deep breaths, closing your eyes, and visualizing positive outcomes. Avoid any distractions and stay focused on the task at hand.
Arrive at the exam center early enough to avoid any unnecessary stress or panic.
8. Take breaks.
"I'll sleep when I'm dead" is for fools! Rest makes you more productive, both in life and on the CFA exam. Take advantage of any breaks provided to stretch, rest, and recharge your brain. Use this time to review your answers or jot down any important notes or formulas.
9. Proceed at a careful pace.
You should read all instructions and questions carefully to avoid any mistakes or misunderstandings. Highlight any keywords or phrases that may help you understand the question better.
Also avoid rushing through the exam or spending too much time on a single question. Pace yourself and maintain a steady momentum throughout the exam.
10. Review your work.
Review your answers and check for any errors or omissions before submitting your exam. Make sure you have answered all questions and have followed all instructions.
In conclusion, by being prepared, focused, and calm, you can ace your CFA exam day. Use these tips to maximize your chances of success and achieve your academic or professional goals. Good luck!